The purpose of this website branches out in a couple different directions. It is a platform for my Personal Case Study, as well as a place to offer different success platforms in order to stir up life motivation, strengths, self-worth, determination, stamina, confidence, encouragement and perseverance.
I live with a positive attitude that spills out on others whom I am acquainted with. I would love to offer you a place very similar to this site where one can go to find viral excitement—This place is included in my Personal Case Study.
$50,000 a month: A Year-Long Case Study
MY PLAN FOR SUCCESS: BECOMING AN ENTREPRENEUR
My personal journey of becoming established in life.
First, let me tell you a little about myself. I'm a mother, an Ordained Minister, Published Children's Author (Bibletoons series), Web Designer (WorldHorizons Web), Online Affiliate Marketer and Owner (HEN Affiliates), (My Wealth at Home) (Make Money at College) and an Entrepreneur.
I LOVE LIFE.
I love life and have a true passion for exploring all it has to offer. I sometimes get totally lost in my writing and web designing because I enjoy it so intensely, and I feel it's the most desirable work to put my time into. I also love a good challenge and reaching my goals in my work and in life is what I'm always striving for. Accomplishment takes root through happiness & contentment, passion & perseverance, and faith & integrity. I'm thankful for the opportunities to pursue my purpose.
My Story
With all the negativity surrounding us at every turn in the world, I wanted to set out to make a difference—no matter how big or small that difference was. Positive change takes place with one act of random kindness at a time. So, I decided to focus my energy on designing websites and reaching out to millions of others who wanted to make a positive life change both financially and mentally.
My thought is to gather eager and earnest individuals together and offer motivation in making a thrilling change in their lives that would allow them to enjoy life, seeking the utmost fulfillment.
ENTER: MY PERSONAL CASE STUDY.
Once you join my study, you will be taken to various blogs for direction and guidance. It will be an experience that you most certainly may want to take part in.
This is exactly what it says it is—a PERSONAL Case Study to prove the possibility of earning $50,000 each month in one year. I will be accomplishing tasks in building the strong foundation of a successful business. It is totally free to become part of and follow along, whether as an onlooker or a participant. It will be a time of conversing and dwelling within a community of almost 2 million within the platform, and hundreds or more generating interest in my study. They are people like you and me, from all over the entire world, who are seeking a better way of life.
I will be able to reflect on the tasks at hand and offer help, suggestions and guidance to each person along the way.
I am very excited about this current challenge and foresee much positive energy ignited throughout already, as hundreds have come on board!
MY REASON FOR HELPING PEOPLE ALL OVER THE WORLD.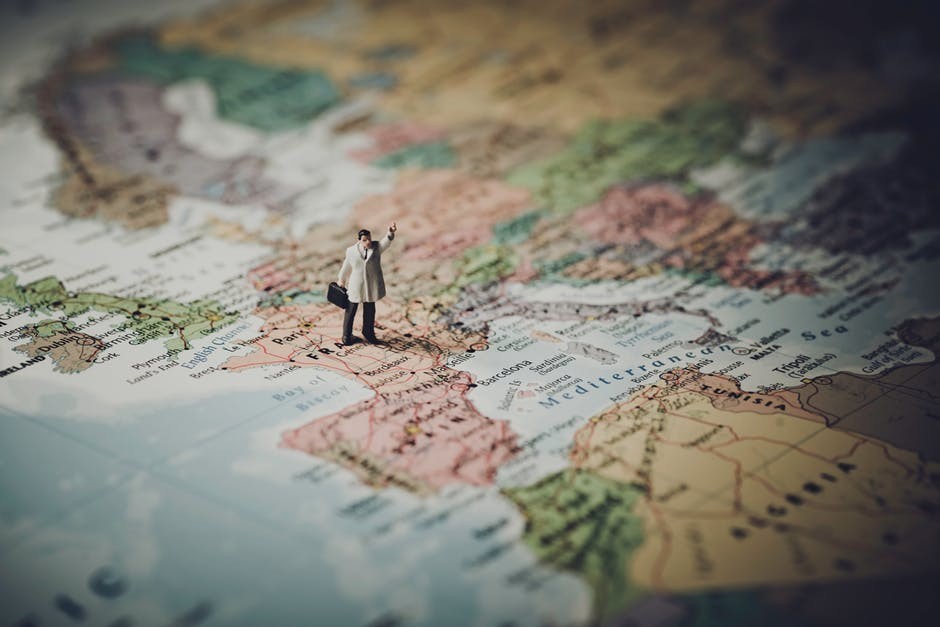 I love leading groups to great accomplishments with leadership, and have had much prior experience and success doing so in the past.
I love getting people excited and positive about life! Taking on a new venture is as exciting as it gets! I believe that life is exactly what you make it, and that everyone should experience a sense of freedom and enjoyment for both themselves and their families.
Think of how much better the world would be if more were happy and enjoying their time on this planet! It's hard to wrap your head around, but it would be AMAZING, wouldn't it?!
You're welcome to read my encouraging blogs on this site, and I look forward to seeing you inside my study!
$50,000 a month: A Year-Long Case Study

I have also written 273 motivational blog posts that you will also have access to inside my Personal Case Study.
PLEASE LEAVE YOUR COMMENTS BELOW
Every feedback or comment enhances this site! Thank you for your stories!
All the Best,
H. Erin Nelson, Make Money at College / HEN Affiliates / My Wealth at Home
MY CREDIBILITY AT WEALTHY AFFILIATE–Status Rank of AMBASSADOR: Top 25 in company. (Previous Rank of #4 (below the 3 leaders) of almost 2 million members, and rapidly increasing daily!)
Here is a screenshot of my profile at Wealthy Affiliate. Click to read more!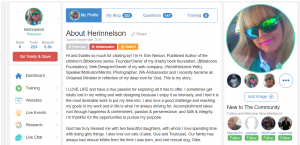 Read My Other Blogs:
OFFERED OPPORTUNITIES:
Wealthy Affiliate FREE Starter Membership.
IBOToolbox
CREDENTIALS: Honors and Awards, H. Erin Nelson
Through the years of my lifetime, I have been Blessed to participate in several activities that I have been accredited kindly for. Among these credentials are the following:
JUNE 29, 2013: Barnes & Noble: Book Signing/Storytime, Syracuse (Dewitt) NY
Raymour & Flanigan Plaza, 3454 Erie Boulevard East. Invited by Nick Bennett, Community Relations Manager.
JUNE 27, 2013: Radio Interview on WMCR-FM 106.3, Oneida, NY
Interview at 9:00am with Todd Emanuelli, WMCR-FM 106.3 Mornings and Resident Sports Director. Invited by Linda Wimmer, WMCR-FM 106.3, Weekday Afternoons and Wednesday's "Learn & Laugh With Linda." (Interview: Growing up in Canastota, NY & life as an author, Barnes & Noble Book Signing/Storytime on June 29th.)
Radio and TV interview on "Good Morning, Pittsfield" with John Krol
7:30am, March 28, 2013.
Public Access Channel 17, WTBR-FM 89.7 Radio.
RE: Promoting "Bibletoons: Book One, Adventure with Noah"
SEPTEMBER 13, 2012: Berkshire Christian School, Guest Speaker/Book Signing
At "Chapel Time" led by Nick Winnard, 8:15am, at Hope Church, 259 Kemble Street, Lenox, MA. Invited by Heidi Dickerson, Principal.
"WORLDWIDE WHO'S WHO RECOGNIZES H. ERIN NELSON AS AN HONORED MEMBER. Richard Someck, Vice President Honors H. Erin Nelson.
THE ABOVE NAMED INDIVIDUAL HAS QUALIFIED FOR INCLUSION IN THE CAMBRIDGE WHO'S WHO REGISTRY OF EXECUTIVES, PROFESSIONALS AND ENTREPRENEURS 2012-2013 EDITION" For accomplishments as a successful Author, Web Designer/Owner of WorldHorizons WebCenter, Graphic Designer, Public Speaker, $360,000 Capital Funds Campaign Chairperson, Vast Church Positions, Pioneer Girls Leader, Professional Photographer and Christian Mentor.
Radio Interview with Linda Wimmer on WMCR-FM 106.3
"Whitelaw Old Home Day," Canastota, NY. August 4, 2012. "Bibletoons" book signing tent.
JULY 21, 2012: Book Signing/Storytime at Barnes & Noble
555 Hubbard Avenue, Pittsfield, MA, 1:00-3:00 p.m. Invited by Barnes & Noble Managerial Staff.
Guest on the radio: "Berkshire Viewpoint," Donna Todd Rivers
JULY 18, 2012: On the radio! Guest on "Berkshire Viewpoint." 1340AM, Pittsfield, MA, Wednesday,11 – 1pm. Invited by Host Donna Todd Rivers to promote "Bibletoons: Book One, Adventure with Noah" / upcoming Book Signing/Storytime at Barnes & Noble, Pittsfield.
June 23, 2012 Book Signing at LIVING WORD PARABLE CHRISTIAN STORE in LATHAM, NY
11-2pm, 952 Troy Schenectady Road, Latham, NY. Invited by Owner, Rich Cretaro.
JUNE 8-10, 2012: Book Signing Booth with the Empire Haiti Coalition at the Diocese of Albany Convention
June 8-10, 2012 at CAMP-of-the-WOODS, 106 Downey Ave., Speculator, NY. Invited by Albany Diocese Member, Cindy Zawislan Schmehl. For "Bibletoons: Book One, Adventure with Noah"
"TOP REGIONAL SALES IN WESTERN MASSACHUSETTS" AWARD
2001 issued by Market America, Inc. Received award for the most sales of Market America Health Care Products in Western Massachusetts. Honored at Regional Convention on Long Island, NY.
"RETAILING TO THE TOP" AWARD
Issued by Market America, Inc., for excelling in Sales of Health Care Products. 125 customers buying monthly. Received award at the Regional Convention in Worcester, MA. Over 4,500 in attendance.
"PARISHIONER OF THE YEAR" AWARD
September, 1990 issued by The Church on the Hill, Lenox, Massachusetts:
Coordinator/Chairperson: $200,000 Capital Funds Campaign.
Exceeded goal/raised over $360,000 (w/120 church members/community outreach).
Coordinator of eight committees and planning procedures for the campaign through a Systemized Manual. Preached a sermon (received standing ovation), Organizer/Speaker of Advanced Gifts Giving Dinner/Fundraiser, Organizer/Speaker at The Church on the Hill Dinner/Meeting/Fundraiser at the Lenox House Restaurant, Lenox, MA (over 300 in attendance), ran all Campaign Meetings. Purpose of Campaign: to raise money for a new Chapel roof, to paint the Church and to repair the church's antique Johnson organ. Number of Members: 120. Church Campaign Motto: "Let the Spires Inspire." 1990-1993
At my Company, WorldHorizons Web, I have had my designs chosen for numerous projects:
Bus Mural Design
Billboards
Shopping Cart Design Advertisement
Sign Designs
Letterhead, Stationery, Business Cards
Logos
All the accomplishments and rewards in my lifetime have led me to my current work as an Affiliate Marketer—helping others to succeed with my expertise and experiences.
H. Erin Nelson, Entrepreneur